I recently began using the Anker Universal Magnetic Car Mount to hold my phone for navigation in my vehicle, and I'm quite impressed with its performance.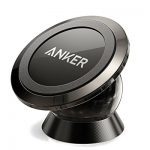 Unlike larger phone holders which stick to the window with a suction cup (until they don't) or otherwise intrude into a vehicle's interior, the Anker Universal Magnetic Car Mount is incredibly low-profile and can be mounted to almost any surface with a small, round piece of 3M adhesive foam tape. Three pieces are included with the mount, one on the bottom ready to use plus two extra pieces in case you decide to relocate it.
In the weeks I have been testing the mount, it has remained solidly mounted to the original location I selected. Because of the rotating head, the mount can be secured at nearly any angle from vertical to horizontal and requires less than a square inch of surface space.
In addition to the mount and adhesive foam, the product includes two metal plates to be mounted to your phone or phone case. Each plate comes with one piece of 3M adhesive connected to it plus there are two additional 1.5" circles of 3M adhesive provided in the box. The metal plates not entirely circular, but are instead heavily rounded squares. They measure just over 1.5" at the widest point.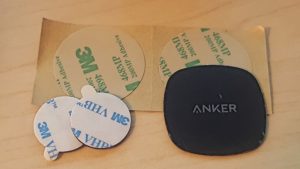 A few pieces of advice to get the best performance from your Anker Universal Magnetic Car Mount:
Clean your dashboard (or wherever you are going to place the mount) with alcohol before you place the adhesive foam. Do the same to your phone case before attaching the metal plate. This will allow for the strongest and most reliable bond.
Allow the mount to sit in place for 24 hours before using. This allows the adhesive to form a strong bond before the weight of the phone is placed on it.
If you wish to use the mount to hold your phone both vertically and horizontally, position the metal plate near the center of your phone. If it is too near the top, the phone will be off balance in the horizontal position, and it will slowly rotate down as you drive.
The metal plate can interfere with wireless charging. The best solution is to secure the metal plate to the back of a phone case (don't install inside the case as some have suggested) and remove the case when using a wireless charger. Removing the case is a good practice anyway as it allows for the strongest signal from the wireless charger.
This is the latest of at least half a dozen cell phone mounts I have used in my car over the last several years, and it is by far the best.
---
---