Approximately 50,000 individuals have been sentenced to life without parole in the United States. 2,500 of them received this sentence for crimes committed as juveniles.
Such a sentence deprives the offender of any hope and offers them no incentive whatsoever to seek to reenter society. Despite growing opposition to the death penalty, many people still don't recognize that a 'life sentence' without the possibility of parole is really a 'death sentence' as well.
It's time to turn on the light at the end of the tunnel and restore hope to those who have lost it. If we truly want to be a nation that eschews cruel and unusual punishment, we must stop pretending that depriving a person of even the slightest glimmer of hope doesn't breach this standard.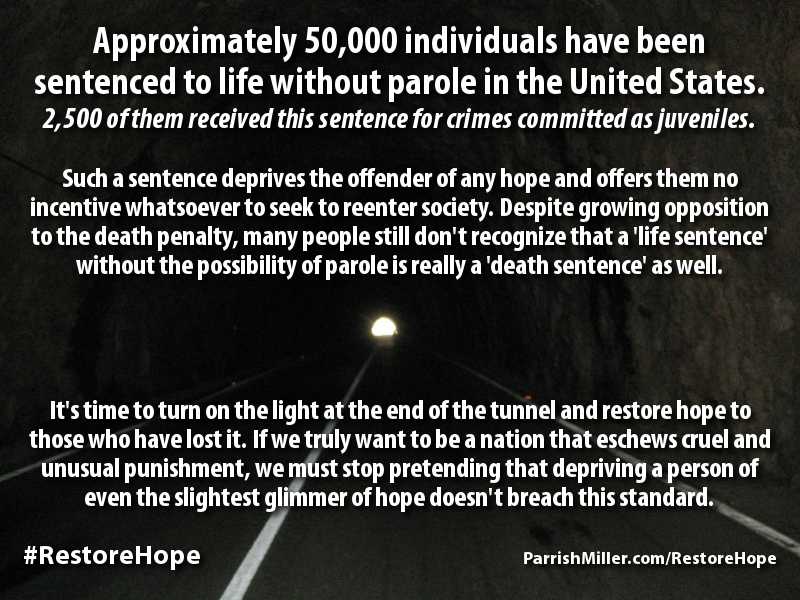 Read more about Crime, Punishment, and a Better System.
See what the ACLU has to say about Juvenile Life Without Parole:
Each year in the United States, children as young as 13 are sentenced to spend the rest of their lives in prison without any opportunity for release. Approximately 2,500 children have been sentenced to juvenile life without parole (JLWOP) in the United States. Despite a global consensus that children cannot be held to the same standards of responsibility as adults are and recognition that children are entitled to special protection and treatment, the United States allows children to be treated and punished as adults.
These days, it seems the U.S. excels at only two things — killing people and locking them in cages. Are we going to just accept (or ignore) this fact or are we going to do something to change it? I am actively looking to challenge the status quo here in Idaho and to break the cycle of criminal justice malfeasance that is needlessly destroying so many lives.
Do you want to get involved? Contact me (or comment below) and let me know about your experiences with the criminal justice system and your ideas for making it better. Together we can reform the system and #RestoreHope to its victims.
---
---