If you're at all like me, you probably carry a pocketknife or multi-tool just about everywhere you go... everywhere that is, except through a TSA security checkpoint when you have to fly commercial.
Of course the TSA rules prohibiting small pocket knives and multi-tools have nothing whatsoever to do with security or safety and everything to do with training the populace to meekly comply with outrageous demands by a totalitarian state, but I digress.
Fortunately, today there are a variety of small 'knifeless' tools available which can help you survive your trip passed the TSA goons. Unfortunately, even though these tools are all technically compliant with TSA regulations, an overambitious agent may still opt to confiscate it from you, and you will have little recourse in the matter. The best thing you can do is calmly ask to speak to a supervisor. Doing so may resolve the issue or it may not, so spending a lot on your TSA-compliant tools isn't necessarily recommended.
Okay, here's the list of tools that I carry (not usually all at the same time) when flying the not-so-friendly skies of the USA. (Rules and regulations differ by country and even by airport in some places, so check ahead of time to determine what tools are allowed.)
Usually available for less than $5, the Gerber Shard Keychain Tool is the least expensive option on my list. While I can't speak for everyone, I've personally carried it through TSA checkpoints more than a dozen times without so much as a comment being made about it. The 0.7 ounce tool theoretically has 7 functions (a phillips driver, small flat driver, medium flat driver, lanyard ring, bottle opener, pry bar, and wire stripper) though the effectiveness of the wire stripper is questionable. As a small screwdriver and bottle opener, however, it excels. I carry this tool all the time and have found the mini pry bar functionality surprisingly helpful on many occasions. It saves your knife (when you have one) and at less than $5, it's not the end of the world if it bends or breaks.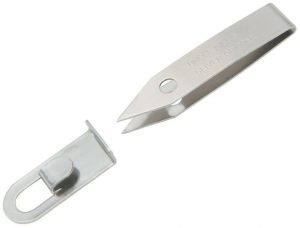 At less than $10 for a 2 Pack of Uncle Bill's Sliver Gripper Keychain Tweezers, this is probably the least controversial option on the list. Still, the come in very handy. After Desert Storm, General Norman Schwarzkopf wrote about the Sliver Gripper: "I have never had a pair of tweezers in my life that was worth a damn. Now I do and I appreciate it very much." If you have to remove a sliver or make a delicate repair, you'll likely agree.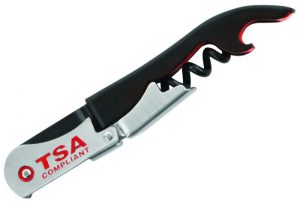 While bottle openers are a common inclusion in small tools (bladeless and otherwise), the corkscrew is sadly less prevalent. (If you've ever tried to open a bottle of wine without one, you'll understand.) While the standard 'waiters corkscrew' has a small knife blade for removing foil and thus won't make it past TSA, the $12 Jetsetter TSA Compliant Corkscrew deletes the blade and includes a bottle opener. Wine or beer? Either way, you're prepared to save the day.
The Victorinox Jetsetter 3 (available for around $18) might be my favorite option for TSA-compliant carry. Small and non-threatening, it includes small scissors, a key ring, tweezers, a toothpick, and the combination tool which features a magnetic phillips screwdriver tip, cap lifter/bottle opener, and a wire stripper. True, it lacks a corkscrew, but it's got just about everything else you need. It also gets bonus points for being made in Switzerland rather than China.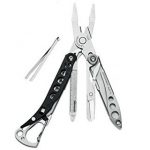 Does the thought of being without your multi-tool pliers concern you? Now you don't have to leave them behind. The Leatherman Style® PS Multi-Tool offers all the features you're used to (except the blade, of course) for around $26 including spring-action needlenose and regular pliers, spring-action wire cutters, spring action scissors, flat/phillips screwdriver, tweezers, nail file, and a combination carabiner/bottle opener.
---
Bonus item: This is not a multi-tool, but it could end up being even more useful — especially if you drop something on the plane and can't find it.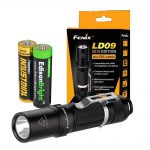 I carry a Fenix LD09 flashlight (or "torch" for our friends across the pond) everywhere I go. Seriously, if I leave my dwelling, it's in my pocket. It weighs just 1.75 ounces with a lithium AA battery, has three brightness modes, a sturdy pocket clip, and (my favorite feature), a 'forward clicky' tailswitch which allows for momentary on functionality. It can also survive a trip through the washer and dryer... not that I'm recommending it!
---
Note: Some of these items may have applications other than making it through TSA checkpoints. Some businesses, courthouses, high schools, and other locations may also prohibit knives, but allow small bladeless tools. As always, it's best to confirm that it's allowable before doing it.
---
---