I'm a fan of Anker products and also of wireless electronics, so the SoundBuds Slim+ Wireless Earbuds were a natural fit for me. Speaking of fit, I've certainly purchased earbuds with multiple tips for customizing fit, but I have never before received five sets of EarTips plus three sets of EarWings. Wow! Regardless of the size and shape of your ears, you will be able to find a combination that works for you.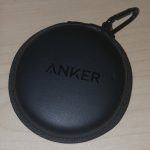 Anker also includes a short charging cable and a structured carry case for the earbuds with an interior mesh pocket for your cable and all those extra EarTips.
The SoundBuds Slim+ get impressively loud (a weakness of many competitors) and last 6-7 hours per charge when listening at normal volume. They preserve stereo separation appropriately and don't muddy or mix the channels like some earlier Bluetooth devices tended to do.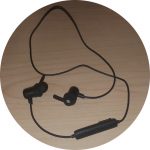 I would rate the sound quality as very good. They are not quite up to the standard set by my wired Sennheiser earbuds, but they perform noticeably better than the wired earbuds included with most phones and mp3 players. Overall, the clarity is good and the bass is very good.
The Bluetooth connection to my Samsung smartphone has been solid and I have had no issues with it skipping or disconnecting at typical across-the-room distances. These earbuds include an inline microphone which allows them to function as a headset for phone calls (remember when making calls was the only thing phones could do?)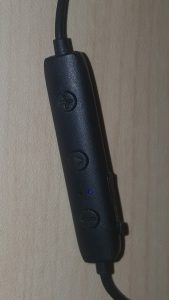 The small inline controller includes the microphone, charging port, battery, and three buttons which allow for answering calls, skipping tracks, and turning the earbuds on and off.
Anker tells me the SoundBuds Slim+ are water resistant (IPX-5), but I haven't put them to the test yet.
In their category of Bluetooth earbuds under $50, the Anker SoundBuds Slim+ Wireless Earbuds are an excellent value and will serve you well for casual listening.
---
---