I have more than a few portable chargers in my possession and I tend to carry at least a few of them when traveling, but the Anker PowerCore II 20000 has some very significant advantages. One of the most important is that it has dual charging ports which allows it to be recharged at twice the speed of most other chargers. A full recharge takes just under 6 hours using both charging ports.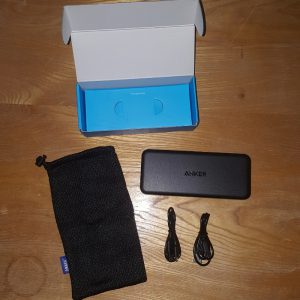 For use while traveling, this is an indispensable feature because it allows for a significant amount of power to be stored during a layover, a short night, or another interval of less than the 10-12 hours most large chargers take to recover.
It can recharge up to three devices simultaneously (and it has the battery capacity to do so at 20,000 mAh), but you'll get slightly better charging times if you charge just two devices at once. There is no difference in charging time for one device versus two, but charging a third will reduce the output from up to 3 amps per port to an average of 2 amps per port. (Traditional chargers provided just 1 amp while generic fast chargers deliver between 2 and 2.4 amps.)
This is not "Quick Charge" device (meaning it isn't certified by the Qualcomm standard), but it does use Anker's proprietary "PowerIQ" technology to deliver as much power to your device as it can safely handle. It's not quite as fast as my "Quick Charge" wall charger, but it does the job at about 85 to 90 percent of the speed.
It comes with two USB charging cables and a lightly padded carry case large enough for the charger and the cables.
Weighing less than a typical water bottle at just 13.5 oz. and at 6.3 inches long, the Anker PowerCore II 20000 has quickly become my preferred traveling companion. It can recharge my phone twice and my tablet once from a full charge, and I've yet to deplete it entirely on even my longest trips.
---
---